Sheen Falls Lodge
Hotel e ristorante ai margini di un fiume.

Irlanda, Kenmare Co. Kerry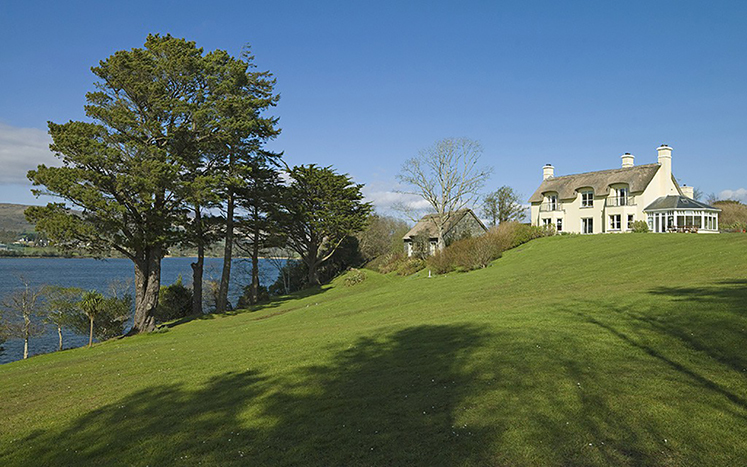 Unico al mondo :
"Incomparabile la vista sulla baia di kenmare, sulle catene montuose dei mcguillicuddy reeks e sulle cascate di sheen."
Seamus Crotty, Maître de Maison, presenta la sua proprietà:
La città di Kenmare, circondata da montagne viola, è uno dei luoghi più amati dagli irlandesi. Il Sheen Falls Lodge è nella posizione ideale per scoprire il sud-ovest dell'Irlanda, le strade panoramiche di Ring of Beara e di Ring of Kerry e i laghi di Killarney. Ma è anche un luogo rinomato per l'atmosfera del suo piano-jazz, la collezione di whisky irlandesi e la maniera unica di preparare il salmone pescato nel vicino fiume. Incomparabile la vista sulla baia di Kenmare, sulle catene montuose dei McGuillicuddy Reeks e sulle cascate di Sheen. Da aggiungere alla magia dei luoghi l'eccezionale ospitalità irlandese e le leggende celtiche.
Services
Parcheggio
Car valet
I bambini sono i benvenuti
Equipements
Terrazzo
Ascensore
Interna
Activités
Canoa/kayak
Caccia
Equitación
Pesca
Campo da golf 9 buche
Golf
Diving
Sci nautico
Campo da tennis
Affitto biciclette
Vela
Mountain bike
Sei in possesso di un cofanetto o di un assegno regalo CRÉATION?
Chiama:
+ 353 (0)64 66 41600
Indirizzo
Sheen Falls Lodge
Kenmare Co. Kerry
Irlanda
Email:
sheenfalls@relaischateaux.com
anni per utilizzarlo *
540 maison in tutto il mondo
Livraison en 48h *
Pagamento sicuro
Consegna 48 h
* per la Francia metropolitana
La Maison des
à Paris
Acquistare sul posto
assegni e Cofanetti regalo

33 Boulevard Malesherbes
75008 Paris, France
+33 (0)1.58.18.30.00

Du mardi au vendredi : 10h-19h
Le samedi : 10h/13h et 14h/19h