Hameau Albert Ier
Restaurant and hotel in the mountains.

France, Chamonix-Mont-Blanc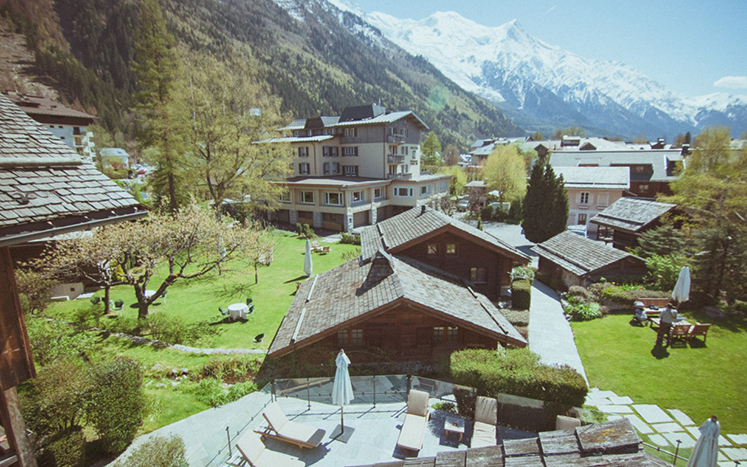 Unique in the world:
"Indoor/outdoor swimming pool also boasts vistas of the eternal snows."
Pierre Carrier, Maître de Maison, presents his property:
At the foot of Mont Blanc, Pierre Carrier, Perrine and Pierre Maillet have taken over this hotel, devoted to fine dining, founded in 1903 by "great grandfather Carrier". The rooms in the main hotel or the chalets in the garden offer both modern and warm comfort. On the one hand, there is the superb menu at the Albert Ier with its recipes influenced by the Piedmont and Liguria and, on the other, the Maison Carrier with its specialities to be enjoyed in the atmosphere of an old farmhouse or with a view of the majestic beauty of Mont Blanc. The indoor/outdoor swimming pool also boasts vistas of the eternal snows. An equally stunning and delicious address.
Services
Car Park
Garage
Valet
Children welcome
Equipements
Lift / Elevator
Indoor and outdoor swimming pool
Indoor
Outdoor
Activités
Horseback riding
Fishing
Golf 9 holes
Golf
Rafting
Skiing
Cross-country skiing
Biking
Indoor bike
Mountain biking
Are you in possession of a CRÉATION Gift Certificate or Box?
Call:
+ 33 (0)4 50 53 05 09
Address:
Hameau Albert Ier
38, route du Bouchet
74402
Chamonix-Mont-Blanc
France
Email:
albert@relaischateaux.com
year validity *
540 properties around the world
48 h to 72 h delivery *
secure payment
100% Relais & Châteaux
* for metropolitan France only
La Maison des
in Paris
Acheter sur place des
and boxes on site

33 Boulevard Malesherbes
75008 Paris, France
+33 (0)1.58.18.30.00

From Tuesday to Friday : 10AM-7PM
On Saturday : 10AM/1PM and then 2PM/7PM - Summer closure from 5 to 17 August.