Bolian Resort & Spa, Jingmai
Hotel and restaurant in a park.
China, Pu'er city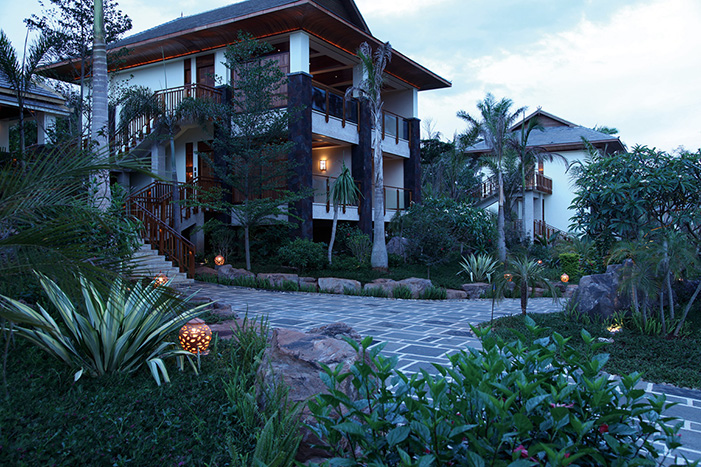 Unique in the world:
"Ten thousand acres of pu'er tea garden with thousands of years of history are located in the jingmai mountains."
Wu Xiao Feng, Maître de Maison, presents his property:
Jingmai Brilliant Resort & Spa is located in the stunning Lancang river area, the worldwide origin of the tea tree. Ten thousand acres of Pu'er tea garden with thousands of years of history are located in the Jingmai mountains, which are inhabited by the descendants of tea plantation minority groups. The Pu'er tea from the Brilliant Pu'er Tea Estate meets the EU regulation for organic products. At the property, whose building style is perfectly in harmony with nature, guests can experience the most natural Chinese tea culture, enjoy the leisure in the resort, the healthy and delicious local food cooked by using natural ingredients, the tailor-made tea spa or discover colorful minority groups' customs and the mysterious Pu'er green triangle zone.
Services
Car Park
Garage
Children welcome From 1 Year
Activités
Fishing
Golf
Tennis on site
Indoor bike
Visit Pu'er tea work shop
Tea ceremony lesson
Tea making experience
Star observation
Yoga & Spa.
Are you in possession of a CRÉATION Gift Certificate or Box?
Call:
+ 86 08 7975 25666
Address:
Bolian Resort & Spa, Jingmai
Hui min township Lancang county
665622
Pu'er city
China
Email:
teaestate@relaischateaux.com
Recipient
of a Création ?
> Enter your card number
Fermeture exceptionnelle du service commercial du Mercredi 29 Mars 2017 à partir de 15h au Vendredi 31 Mars 2017 à 9h00
From Tuesday to Friday : 10AM-7PM
On Saturday : 10AM/1PM and then 2PM/7PM

A prestigious gift for your customers or to motivate your teams.
Contact us