Canoe Bay
Hotel and restaurant on a lake

United States, Chetek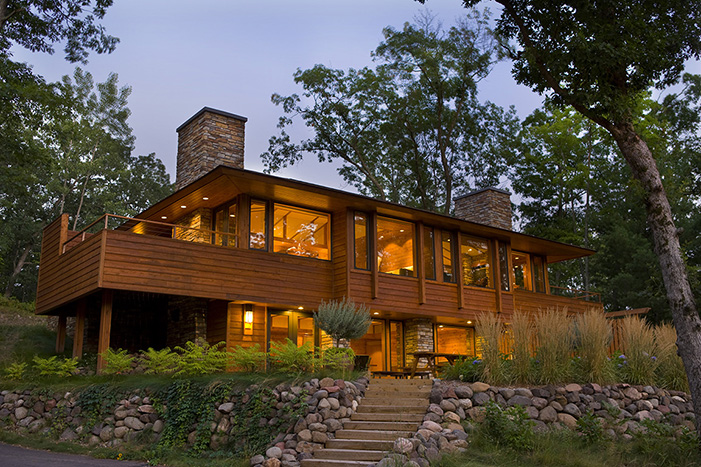 Unique in the world:
"Prairie-style cottages designed by a protégé of Frank Lloyd Wright"
Lisa Dobrowolski and Katie Daubner, Maîtres de Maison, present their property:
Forget cars and other modern modes of transport, here your vehicle is the canoe. At Canoe Bay there is a different rhythm, another way of looking at things, where you appreciate the time on your hands and feel at one with nature. Set in a well-preserved and enchanting part of Wisconsin, the property features Prairie-style cottages designed by a protégé of Frank Lloyd Wright. Simple pleasures, like strolling through the woods, swimming in the lake, and sampling great vintages from the wine cellar, will make your days memorable. The lakeside terraces invite you to gaze at the view, daydream, or read. Light floods into the cedarwood interiors and soothes the senses. This is a refuge for the most romantic souls.
Services
Car Park
Garage
Children not allowed
Activités
Canoeing/kayaking
Fishing
Golf 9 holes
Golf
Skiing
Cross-country skiing
Biking
Indoor bike
Mountain biking
Lake swimming
Snowshoeing
Are you in possession of a CRÉATION Gift Certificate or Box?
Call:
+ 1 715 924 4594
Address:
Canoe Bay
P.O. Box 28,
54728
Chetek
United States
Email:
canoebay@relaischateaux.com
year validity *
540 properties around the world
48 h to 72 h delivery *
secure payment
100% Relais & Châteaux
* for metropolitan France only
La Maison des
in Paris
Acheter sur place des
and boxes on site

33 Boulevard Malesherbes
75008 Paris, France
+33 (0)1.58.18.30.00

From Tuesday to Friday : 10AM-7PM
On Saturday : 10AM/1PM and then 2PM/7PM - Summer closure from 5 to 17 August.