Hôtel de la Plage
Hotel and restaurant on the seafront.

France, Sainte-Anne-la-Palud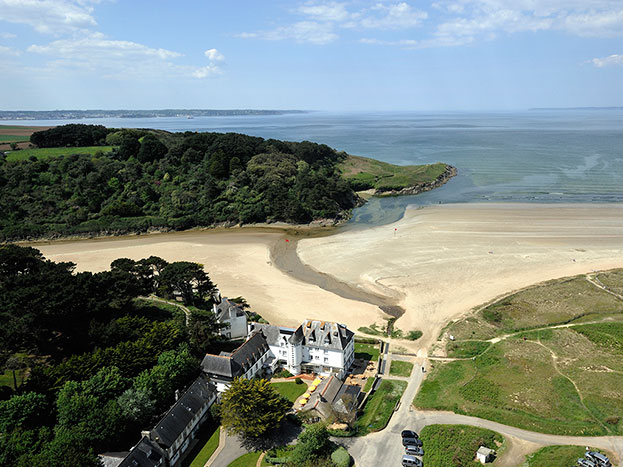 Unique in the world:
"Beach entirely dedicated to children."
Anne et Jean-Milliau Le Coz, Maîtres de Maison, present their property:
Refined dishes such as lobster ravioli, croustille of tourteau, suckling veal and lamb from the Ponclet farm, white of turbot… take on a special flavour when they are served on the seafront in a wonderful place like Hôtel de la Plage. The panoramic restaurant overlooks the ocean and the vast beach of fine sand, only separated by a unique dry stone wall. There are similar views from the rooms, where you can hear the gentle lapping of the waves. Guests with families will enjoy the beach entirely dedicated to children, the water-based recreational activities and walks offered by the Bay of Douarnenez and the Finistère.
Services
Car Park
Children welcome
Activités
Canoeing/kayaking
Horseback riding
Fishing
Golf 9 holes
Golf
Diving
Water skiing
Tennis on site
Biking
Sailing
Mountain biking
Are you in possession of a CRÉATION Gift Certificate or Box?
Call:
+ 33 (0)2 98 92 50 12
Address:
Hôtel de la Plage
29550
Sainte-Anne-la-Palud
France
Email:
laplage@relaischateaux.com
year validity *
540 properties around the world
48 h to 72 h delivery *
secure payment
100% Relais & Châteaux
* for metropolitan France only
La Maison des
in Paris
Acheter sur place des
and boxes on site

33 Boulevard Malesherbes
75008 Paris, France
+33 (0)1.58.18.30.00

From Tuesday to Friday : 10AM-7PM
On Saturday : 10AM/1PM and then 2PM/7PM - Summer closure from 5 to 17 August.