Manoir de Lan-Kerellec
Hotel and restaurant on the seafront.

France, Trébeurden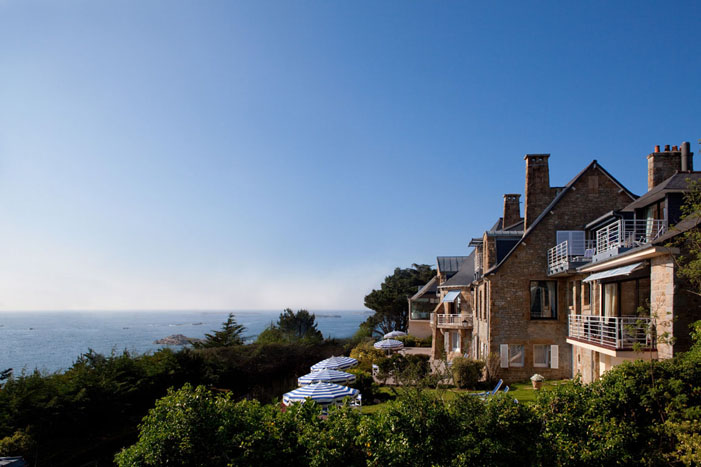 Unique in the world:
"The dining room built in the shape of an upturned boat."
Gilles Daubé, Maître de Maison, presents his property:
Surrounded by the immense sea and the reefs of the Pink Granite Coast, the Manoir de Lan-Kerellec in Trébeurden is a jewel in Brittany's crown. From your balcony, drink in the magical panoramic view of the islands of Milliau, Molène and Losquet. Then you might want to take a walk along the coastal "path of the customs officers" to taste the sea spray, or scuba dive for a closer look at the underwater nature reserve. Enjoy your dinner showcasing the produce of the sea in the dining room built in the shape of an upturned boat, a masterpiece by the Compagnons du Devoir.
Services
Car Park
Valet
Children welcome
Activités
Canoeing/kayaking
Horseback riding
Fishing
Golf
Diving
Water skiing
Tennis on site
Biking
Sailing
Are you in possession of a CRÉATION Gift Certificate or Box?
Call:
+ 33 (0)2 96 15 00 00
Address:
Manoir de Lan-Kerellec
Allée centrale de Lan-Kerellec
22560
Trébeurden
France
Email:
lankerellec@relaischateaux.com
year validity *
540 properties around the world
48 h to 72 h delivery *
secure payment
100% Relais & Châteaux
* for metropolitan France only
La Maison des
in Paris
Acheter sur place des
and boxes on site

33 Boulevard Malesherbes
75008 Paris, France
+33 (0)1.58.18.30.00

From Tuesday to Friday : 10AM-7PM
On Saturday : 10AM/1PM and then 2PM/7PM - Summer closure from 5 to 17 August.