Château Monfort
Hotel and restaurant in town.

Italy, Milano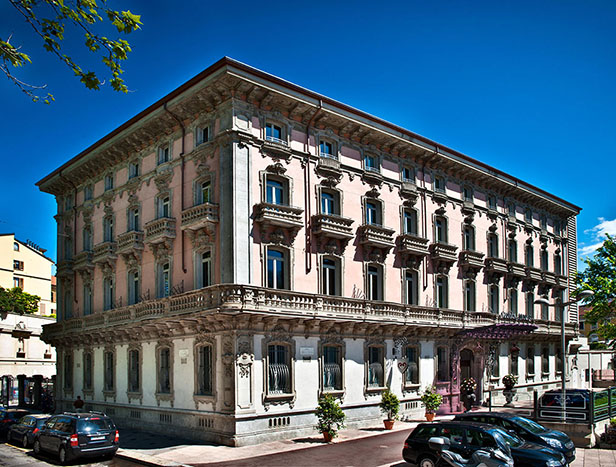 Unique in the world:
"A magical spot where dreams and reality merge in a retro chic ambiance."
Stefano Risolè, Maître de Maison, presents his property:
Right in the centre of Milan, a very special and originally styled hotel has brought a splendid Art Nouveau mansion from the early 20th century back to life. Château Monfort draws its inspiration from the worlds of fairy tale and opera and is a magical spot where dreams and reality merge in a retro chic ambiance. This "urban castle" with pastel-coloured walls adorned with flowers and butterflies, mosaics on the floors, mirrors and princely alcoves is marked by a romantic and tasteful atmosphere, particularly in the magnificent "heart-stealer" Restaurant Rubacuori. At midnight, enjoy the Mezzanotte Bar Lounge with its magnificent glass dome.
Services
Car Park
Valet
Children welcome
Activités
Golf
Biking
Indoor bike
Cooking class
Wine seminars
City Tours and Last Supper visit
Are you in possession of a CRÉATION Gift Certificate or Box?
Call:
+ 39 02 776 761
Address:
Château Monfort
Corso Concordia, 1
20129
Milano
Italy
Email:
monfort@relaischateaux.com
year validity *
540 properties around the world
48 h to 72 h delivery *
secure payment
100% Relais & Châteaux
* for metropolitan France only
La Maison des
in Paris
Acheter sur place des
and boxes on site

33 Boulevard Malesherbes
75008 Paris, France
+33 (0)1.58.18.30.00

From Tuesday to Friday : 10AM-7PM
On Saturday : 10AM/1PM and then 2PM/7PM - Summer closure from 5 to 17 August.