Château St. Gerlach
Hotel and restaurant in the country | Netherlands, Valkenburg aan de Geul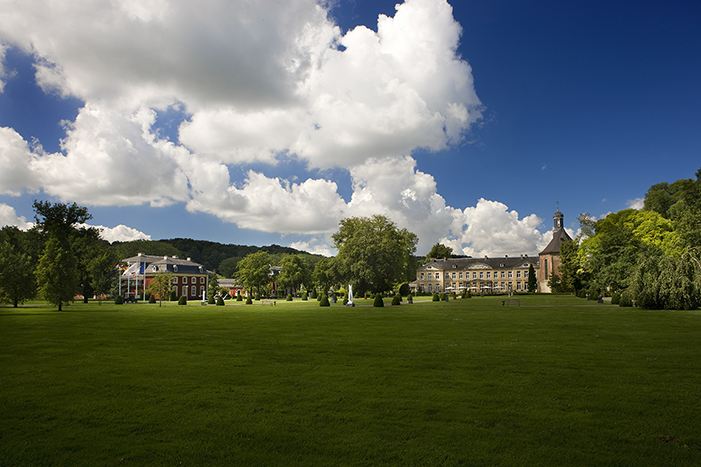 "Unique in the world:its church with splendid 18th-century frescoes"
Jan-Paul Kroese, Maître de Maison, presents his property:
The St. Gerlach Estate is tucked away in the unspoiled natural environment of the Geul Valley and the Ingendael nature reserve. With its own extensive parks, vineyard, herb garden, orchard, rose garden, and its church with splendid 18th-century frescoes , the Château's setting is utterly delightful. The historic buildings date back to the year 1200 and were once a monastery built to accommodate pilgrims who had come to pay homage to hermit Gerlach of Houthem. The guestrooms, housed in the former farmstead, boast views of Baroque gardens. The spa and the Roman indoor swimming pool offer treatments and relaxation. The restaurant which has lost nothing of its aristocratic décor, serves fine French cuisine, while the Bistrot de Liège offers to the guests appealing dishes from the region in an informal setting.
Services
Car Park
Valet
Children welcome
Equipements
Terrace
Lift / Elevator
Indoor
Activités
Horseback riding
Golf 9 holes
Golf
Biking
Mountain biking
Hike through Ingendael nature reserve
Balloon Flight
Jogging
Special conditions for this Gift Box
Type and duration of the proposed treatment: Package for two: face, hot stone massage, paraffin foot mask, fruit salad, gifts
Period of acceptance of the box: throughout the year
Are you in possession of a CRÉATION Gift Certificate or Box?
Call:
+ 31 (0)43 608 88 88
Address:
Château St. Gerlach
1, Joseph Corneli Allée
6301 KK
Valkenburg aan de Geul
Netherlands
Email:
stgerlach@relaischateaux.com