Palazzo Manfredi
Hotel and restaurant in town.

Italy, Rome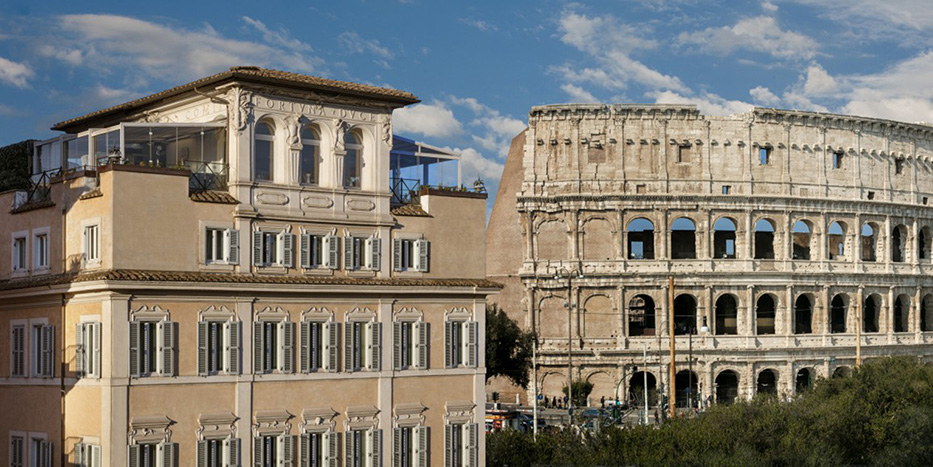 Unique in the world:
"The charming 17th century palace has spectacular views of the colosseum, the forum, and the domus aurea, combined with superb hospitality."
Bruno Papaleo, Maître de Maison, presents his property:
Palazzo Manfredi is an elegant hideaway in the centre of what was once imperial Rome. The charming 17th century palace has spectacular views of the Colosseum, the Forum, and the Domus Aurea, combined with superb hospitality. Built over the ruins of the Ludus Magnus, the gymnasium used by Roman gladiators, Palazzo Manfredi was the hunting pavilion of the Guidi gardens. Today it is tastefully adorned with art ranging from 16th century antique paintings to contemporary pieces. The hotel offers an intimate experience, crowned only by a meal at the hotel's Aroma restaurant where the unparalleled vistas of ancient Rome are beautifully matched by the culinary delights.
Services
Car Park
Garage
Valet
Children welcome From 1 Year
Activités
Golf 9 holes
Golf
Biking
Indoor bike
Are you in possession of a CRÉATION Gift Certificate or Box?
Call:
+ 39 067 759 1380
Address:
Palazzo Manfredi
Via Labicana, 125
00184
Rome
Italy
Email:
manfredi@relaischateaux.com
year validity *
540 properties around the world
48 h to 72 h delivery *
secure payment
100% Relais & Châteaux
* for metropolitan France only
La Maison des
in Paris
Acheter sur place des
and boxes on site

33 Boulevard Malesherbes
75008 Paris, France
+33 (0)1.58.18.30.00

From Tuesday to Friday : 10AM-7PM
On Saturday : 10AM/1PM and then 2PM/7PM - Summer closure from 5 to 17 August.