Le Pré Catelan
Restaurant in town.

France, Paris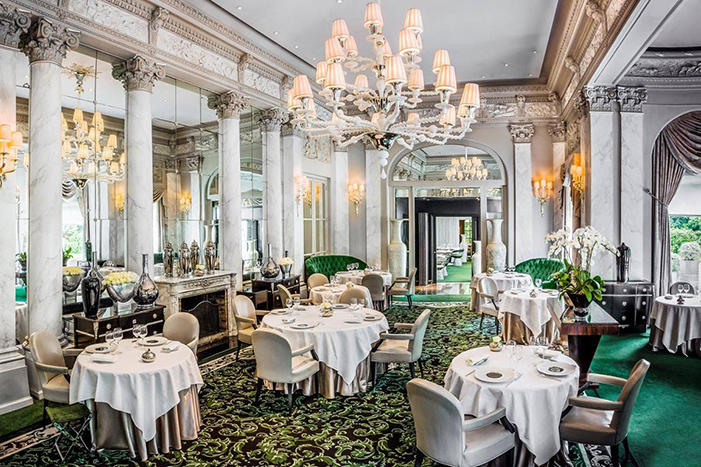 Unique in the world:
"Magnificent setting of a pavilion dating back to napoleon III with ceiling friezes by caran d'ache."
Jean-Jacques Chauveau, Maître de Maison, presents his property:
In the heart of the Bois de Boulogne, in the magnificent setting of a pavilion dating back to Napoleon III with ceiling friezes by Caran d'Ache, Chef Frédéric Anton, MOF (Best Craftsman of France) serves a cuisine which is both subtle and generous. He reveals the best of his ingredients, teasing out flavours and aromas: poached egg with a truffled tartlet and pig's cheek melting in its spices. Chrystelle Brua creates the desserts, and breathes a touch of magic into great classic dishes such as Paris-Brest or pears Belle-Hélène. Your host will be Jean-Jacques Chauveau, awarded Best Maître d'Hôtel in the World 2013, for whom hospitality goes hand in hand with warmth and friendliness.
Services
Car Park
Valet
Children welcome
Are you in possession of a CRÉATION Gift Certificate or Box?
Call:
+ 33 (0)1 44 14 41 14
Address:
Le Pré Catelan
Bois de Boulogne
75016
Paris
France
Email:
catelan@relaischateaux.com
year validity *
540 properties around the world
48 h to 72 h delivery *
secure payment
100% Relais & Châteaux
* for metropolitan France only
La Maison des
in Paris
Acheter sur place des
and boxes on site

33 Boulevard Malesherbes
75008 Paris, France
+33 (0)1.58.18.30.00

From Tuesday to Friday : 10AM-7PM
On Saturday : 10AM/1PM and then 2PM/7PM - Summer closure from 5 to 17 August.