Auberge Saint-Antoine
Hotel and restaurant in town.

Canada, Québec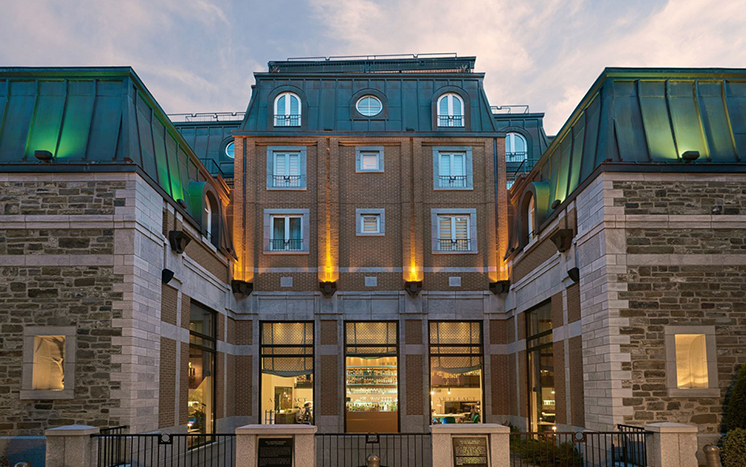 Unique in the world:
"Relics from the french and english colonial times were discovered when the auberge was built. now they can be found among the elegant designer interior."
Jean-Louis Souman, Maître de Maison, presents his property:
Like Charles Dickens, you will be fascinated by the city of Québec, the "Gibraltar of America" with "its giddy heights, its citadel suspended, as if it were in the air, its picturesque steep streets…" In the heart of the first city to be founded in North America, standing on an archaeological site that formerly housed wharves, cannon emplacements and warehouses, the Auberge Saint-Antoine bears witness to the history of this important commercial and military port. Many relics from the French and English colonial times were discovered when the Auberge was built. Now they can be found among the elegant designer interior of this irresistibly charming museum-hotel.
Services
Car Park
Garage
Valet
Children welcome
Activités
Canoeing/kayaking
Golf 9 holes
Golf
Rafting
Skiing
Cross-country skiing
Biking
Indoor bike
Sailing
Mountain biking
Gymnastics
Yoga classes
Are you in possession of a CRÉATION Gift Certificate or Box?
Call:
+ 1 888 692 2211
Address:
Auberge Saint-Antoine
8, rue Saint-Antoine
G1K 4C9
Québec
Canada
Email:
antoine@relaischateaux.com
year validity *
540 properties around the world
48 h to 72 h delivery *
secure payment
100% Relais & Châteaux
* for metropolitan France only
La Maison des
in Paris
Acheter sur place des
and boxes on site

33 Boulevard Malesherbes
75008 Paris, France
+33 (0)1.58.18.30.00

From Tuesday to Friday : 10AM-7PM
On Saturday : 10AM/1PM and then 2PM/7PM - Summer closure from 5 to 17 August.