Château de Riell
Hotel and restaurant on a river.

France, Prades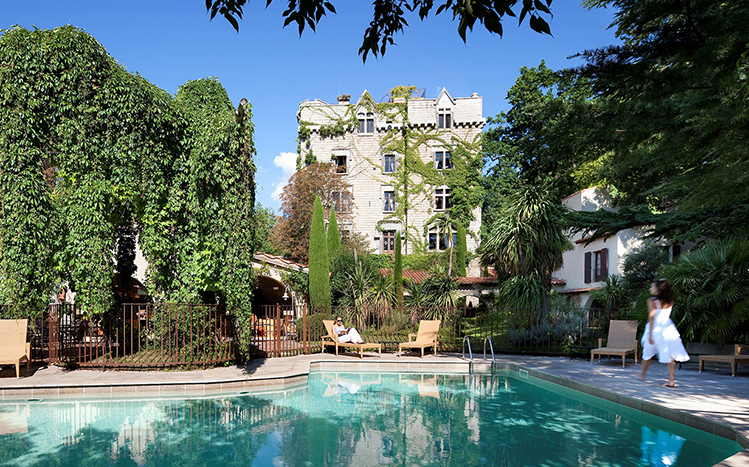 Unique in the world:
"The open-air swimming pool set on the castle's ramparts."
Biche Barthélémy, Maître de Maison, presents his property:
In an unspoilt valley in French Catalonia, looking out at the snow-topped mount Canigou, you will find the Château de Riell, perched among parasol pines and oleander trees. This hotel is made for hedonists, with its baroque interiors and a restaurant whose highlights include lamb and seafood. Sports enthusiasts can choose from the huge range of outdoor activities against a backdrop of breathtaking scenery and the open-air pool set on the castle's ramparts. Discerning gentlemen travellers will be impressed by the ambiance of the Out of Africa bar and the dacha, where you can sit and read or enjoy breakfast. A splendid escape in Romanesque Roussillon.
Services
Car Park
Garage
Valet
Children welcome
Equipements
Terrace
Lift / Elevator
Outdoor
Activités
Canoeing/kayaking
Horseback riding
Fishing
Rafting
Tennis on site
Biking
Indoor bike
Mountain biking
Canyoning
Are you in possession of a CRÉATION Gift Certificate or Box?
Call:
+ 33 (0)4 68 05 04 40
Address:
Château de Riell
Molitg-les-Bains
66500
Prades
France
Email:
riell@relaischateaux.com
year validity *
540 properties around the world
48 h to 72 h delivery *
secure payment
100% Relais & Châteaux
* for metropolitan France only
La Maison des
in Paris
Acheter sur place des
and boxes on site

33 Boulevard Malesherbes
75008 Paris, France
+33 (0)1.58.18.30.00

From Tuesday to Friday : 10AM-7PM
On Saturday : 10AM/1PM and then 2PM/7PM - Summer closure from 5 to 17 August.