Hostellerie de Plaisance
Hotel and restaurant in a village.

France, Saint-Emilion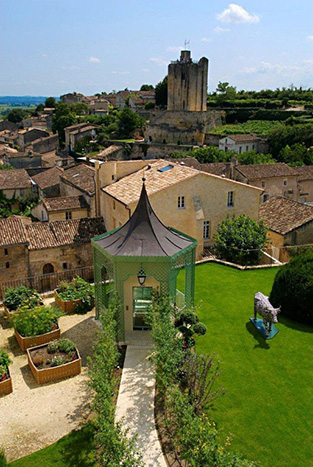 Unique in the world:
"Stunning views of the vineyards as well as the medieval village, a unesco world heritage site."
Mylène Gelin, Maître de Maison, presents his property:
Wine enthusiasts will instantly recognise the name Saint-Émilion as one of the principal appellations of Bordeaux. Savour some great wines at the Hostellerie de Plaisance, where hosts Chantal and Gérard Perse warmly welcome guests to their elegant but relaxed retreat with stunning views of the vineyards as well as the medieval village, a Unesco World Heritage site. The interiors are an excellent blend of sophistication and comfort. At the restaurant be spoiled by the cuisine of the chef, who draws inspiration from the fresh food markets and the treasures of local farmers.
Services
Car Park
Valet
Children welcome
Are you in possession of a CRÉATION Gift Certificate or Box?
Call:
+ 33 (0)5 57 55 07 55
Address:
Hostellerie de Plaisance
5, Place du Clocher
33330
Saint-Emilion
France
Email:
plaisance@relaischateaux.com
year validity *
540 properties around the world
48 h to 72 h delivery *
secure payment
100% Relais & Châteaux
* for metropolitan France only
La Maison des
in Paris
Acheter sur place des
and boxes on site

33 Boulevard Malesherbes
75008 Paris, France
+33 (0)1.58.18.30.00

From Tuesday to Friday : 10AM-7PM
On Saturday : 10AM/1PM and then 2PM/7PM - Summer closure from 5 to 17 August.