L'Hôtel de Toiras & Villa Clarisse
Hotel and restaurant in a village.

France, Saint-Martin-de-Ré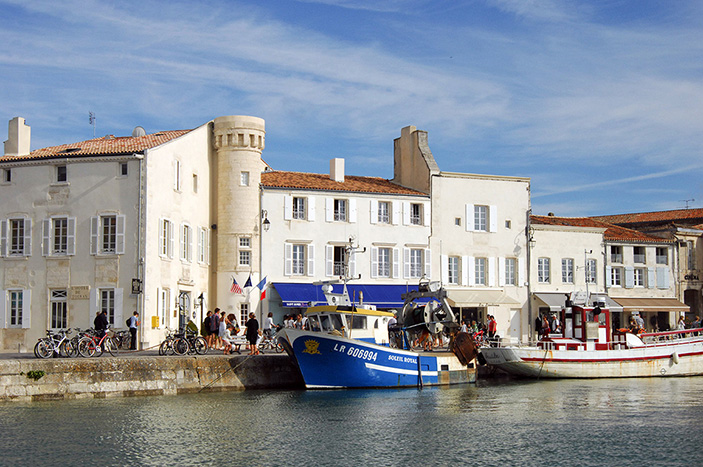 Unique in the world:
"The fortress by vauban, a unesco world heritage site with spectacular views of the atlantic."
Olivia Le Calvez, Maître de Maison, presents his property:
The beautiful island of Ré is really worth a visit. Among the charming ports linked by a network of pathways to be explored by bike, crisscrossing the sandy earth, Saint-Martin-de-Ré, surrounded by the Vauban fortifications, is the best place to stay. The hotel is a 17th century shipbuilder's residence with windows overlooking the port, near the fortress by Vauban, a Unesco World Heritage site with spectacular views of the Atlantic. You might also want to stay at Villa Clarisse, an 18th-century townhouse located a stone's throw away. Here, the mast of a passing fishing boat may perhaps be the only thing to disturb your view of the setting sun.
Services
Car Park
Garage
Valet
Children welcome
Equipements
Terrace
Lift / Elevator
Outdoor
Activités
Canoeing/kayaking
Hunting
Horseback riding
Fishing
Golf 9 holes
Golf
Diving
Water skiing
Biking
Sailing
Mountain biking
Sea excursions
Sea fishing
Sand yacht
Trike
Are you in possession of a CRÉATION Gift Certificate or Box?
Call:
+33 (0)5 46 35 40 32
Address:
L'Hôtel de Toiras & Villa Clarisse
1, quai Job-Foran
17410
Saint-Martin-de-Ré
France
Email:
toiras@relaischateaux.com