Terme Manzi Hotel & Spa
Restaurant and hotel in a village.

Italy, Casamicciola Terme - Ischia Island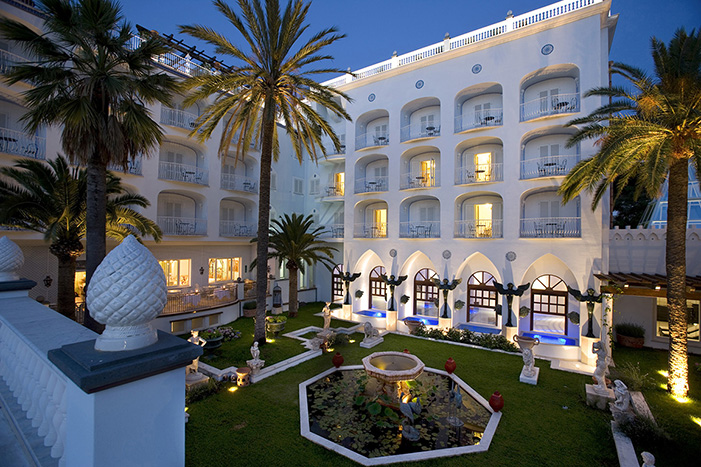 Unique in the world:
"The old and the modern melt to create synergies whose result is well-being."
Maria Polito, Maître de Maison, presents his property:
Located on the magical island of Ischia, in the village of Casamicciola, the Terme Manzi Hotel & Spa is an architectural gem built in the 19th century. This elegant and sophisticated palace, with its beautiful furnishings and decor, is where the mind and body become one to embrace the warm thermal waters of the Gurgitello Spring, well-known since antiquity for their regenerating, healing and therapeutic properties. They best combine with the fabulous qualities of organic volcanic clay for a revitalizing synthesis, the mud therapy. At all three restaurants, the chef chooses from the genuine ingredients that the Ischian sea and countryside have to offer, creating dishes that bring together the great Mediterranean tradition with new Italian culinary creativity, and will take you on a journey to discover the "emotional cuisine".
Services
Car Park
Valet
Children welcome
Equipements
Terrace
Lift / Elevator
Indoor and outdoor swimming pool
Indoor
Outdoor
Activités
Canoeing/kayaking
Horseback riding
Fishing
Diving
Biking
Indoor bike
Sailing
Mountain biking
Yoga / Pilates
Personal trainer
Cooking class / Pizza class
Fine dining
Personalized detox programs
Sandy beaches
Thermal Parks / Historical sites / Roman path
Boat tours
Winery excursion / Excursion to botanical Gardens
Trekking
Are you in possession of a CRÉATION Gift Certificate or Box?
Call:
+39 081 99 47 22
Address:
Terme Manzi Hotel & Spa
Piazza Bagni 4
80074
Casamicciola Terme - Ischia Island
Italy
Email:
manzi@relaischateaux.com