La Côte Saint Jacques & Spa
Restaurant and hotel on a river.

France, Joigny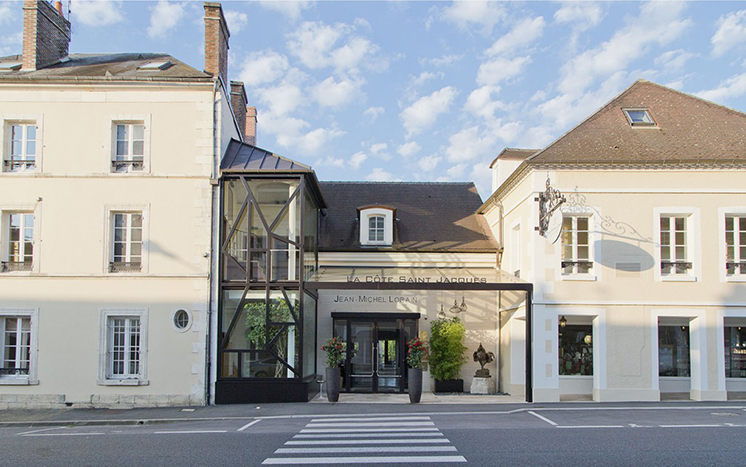 Unique in the world:
"Panoramic views from the jacuzzi on the banks of the river yonne."
Jean-Michel Lorain, Maître de Maison, presents his property:
The Côte Saint Jacques, in the heart of Burgundy, is a captivating destination. Most of the pleasant rooms have nice terraces, and there are panoramic views from the jacuzzi on the banks of the river Yonne. With an array of activities available, from cooking lessons, to strolling along the canal, an indoor swimming pool, a spa and special programmes for children, you will not be at a loss for things to do. Chef Jean-Michel Lorain, the hotel's talented and exuberant owner, will welcome you like a friend, and if you're lucky, he will let slip the secrets of his recipes. It's worth a trip here just to enjoy his Genesis of a Dish on the theme of the oyster.
Services
Car Park
Garage
Valet
Children welcome
Activités
Horseback riding
Fishing
Golf
Water skiing
Biking
Indoor bike
Mountain biking
Are you in possession of a CRÉATION Gift Certificate or Box?
Call:
+ 33 (0)3 86 62 09 70
Address:
La Côte Saint Jacques & Spa
14, faubourg de Paris
89300
Joigny
France
Email:
lorain@relaischateaux.com
year validity *
540 properties around the world
48 h to 72 h delivery *
secure payment
100% Relais & Châteaux
* for metropolitan France only
La Maison des
in Paris
Acheter sur place des
and boxes on site

33 Boulevard Malesherbes
75008 Paris, France
+33 (0)1.58.18.30.00

From Tuesday to Friday : 10AM-7PM
On Saturday : 10AM/1PM and then 2PM/7PM - Summer closure from 5 to 17 August.