Château de Locguénolé
Hotel and restaurant on the seafront.

France, Kervignac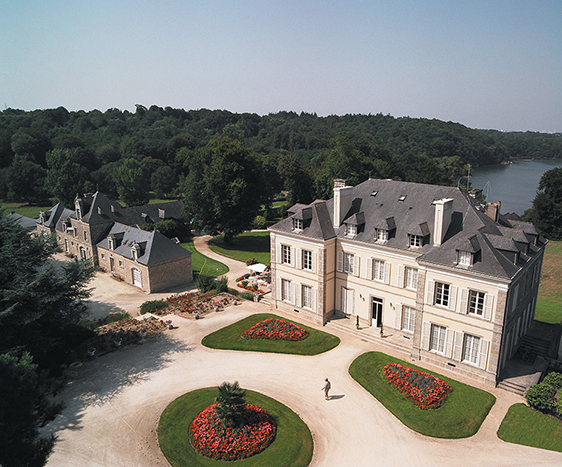 Unique in the world:
"A wide estuary where the light and landscape change with the tides."
Bruno de la Sablière, Maître de Maison, presents his property:
Locguénolé is located next to the dark waters of a sea inlet in the heart of a land of legends. The Château and the small Manor House overlook a wide estuary where the light and landscape change with the tides. These buildings from the 18th and early 19th centuries are set in wooded parkland and have remained in the hands of the same family for centuries. They boast a combination of modern comfort and tradition with classical décor and period furniture. The creative cuisine is based on a subtle pairing of ingredients from the Morbihan terroir and the ocean. A private pontoon permits sailors travelling up the Blavet from Lorient harbour to dock at this delightful haven.
Services
Car Park
Valet
Children welcome
Activités
Canoeing/kayaking
Horseback riding
Fishing
Golf 9 holes
Golf
Diving
Tennis on site
Biking
Sailing
Mountain biking
Walk in the 120-hectare park including 2 km of private coastline
Are you in possession of a CRÉATION Gift Certificate or Box?
Call:
+ 33 (0)2 97 76 76 76
Address:
Château de Locguénolé
Locguénolé
56700
Kervignac
France
Email:
locguenole@relaischateaux.com
year validity *
540 properties around the world
48 h to 72 h delivery *
secure payment
100% Relais & Châteaux
* for metropolitan France only
La Maison des
in Paris
Acheter sur place des
and boxes on site

33 Boulevard Malesherbes
75008 Paris, France
+33 (0)1.58.18.30.00

From Tuesday to Friday : 10AM-7PM
On Saturday : 10AM/1PM and then 2PM/7PM - Summer closure from 5 to 17 August.