A Quinta da Auga Hotel & Spa
Hotel and restaurant in town.
Spain, Santiago de Compostela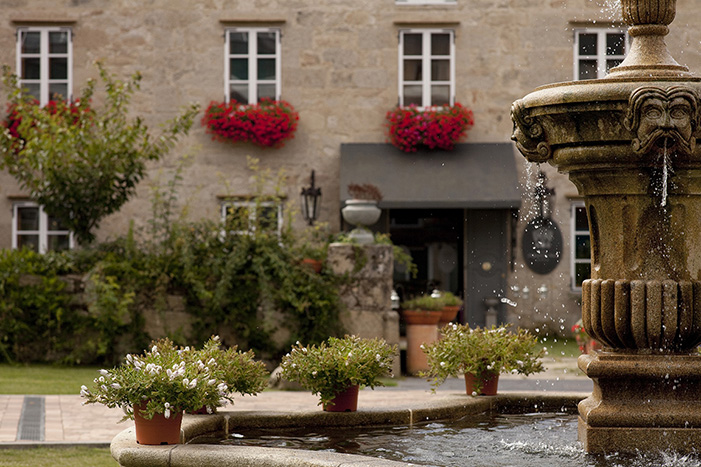 Unique in the world:
"Natural, romantic escape within the world heritage city of santiago de compostela."
Luisa Lorenzo, Maître de Maison, presents his property:
A river runs round the estate and the majestic buildings dating back to the 18th century and then meanders between the trees of a magnificent wood. The grounds exude tranquillity and serenity. A Quinta da Auga is a natural, romantic escape within the World Heritage city of Santiago de Compostela, which welcomes the pilgrims at the final destination on the St James Way pilgrimage route, with an amazing historical town centre. The hotel's restaurant offers regional delights, seafood and meat dishes. Enjoy a wide range of cultural, oenological and sailing activities in the vicinity.
Activités
Canoeing/kayaking
Horseback riding
Fishing
Rafting
Biking
Sailing
Are you in possession of a CRÉATION Gift Certificate or Box?
Call:
+ 34 98 153 46 36
Address:
A Quinta da Auga Hotel & Spa
Paseo da Amaia 23b
15706
Santiago de Compostela
Spain
Email:
auga@relaischateaux.com
year validity *
540 properties around the world
48 h to 72 h delivery *
secure payment
100% Relais & Châteaux
* for metropolitan France only
La Maison des
in Paris
Acheter sur place des
and boxes on site

33 Boulevard Malesherbes
75008 Paris, France
+33 (0)1.58.18.30.00

From Tuesday to Friday : 10AM-7PM
On Saturday : 10AM/1PM and then 2PM/7PM - Summer closure from 5 to 17 August.