Restaurant & Hôtel Georges Wenger
Restaurant and hotel in the country.
Switzerland, Le Noirmont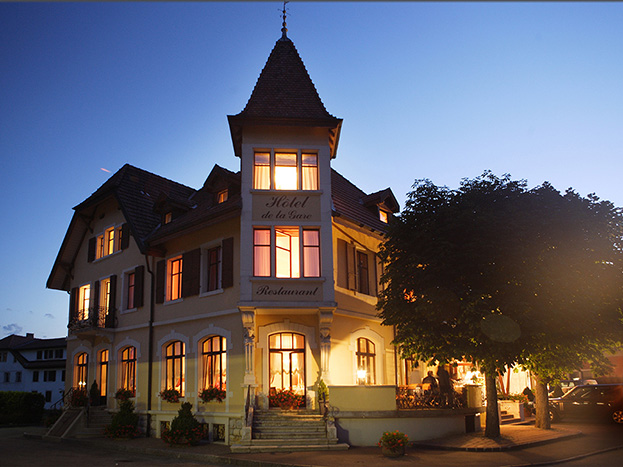 Unique in the world:
"A cuisine based on ingredients, pairings and contrasts."
Georges et Andrea Wenger, Maîtres de Maison, present their property:
This Mecca of fine dining, in the heart of the Franches Montagnes in the Swiss Jura, just a few kilometres from the watch-making town of La Chaux-de-Fonds, a Unesco World Heritage site, is the epitome of relaxed elegance. Everything here simply exudes authenticity. Passionate Chef Georges Wenger serves a cuisine based on ingredients, pairings and contrasts, which constantly seeks to invent anew its rich local heritage. Morels, asparagus, trout, rhubarb, game, truffles and wild berries have pride of place on his table. Georges Wenger is also a true wine enthusiast: he has built up an outstanding cellar with more than 1,000 wines, which alone is reason enough for a visit.
Services
Car Park
Children welcome
Activités
Canoeing/kayaking
Hunting
Horseback riding
Fishing
Golf 9 holes
Golf
Diving
Rafting
Skiing
Cross-country skiing
Biking
Sailing
Mountain biking
Scooter circuit (summer)
Snowshoeing (winter)
Dogsledding
Are you in possession of a CRÉATION Gift Certificate or Box?
Call:
+ 41 (0)32 957 66 33
Address:
Restaurant & Hôtel Georges Wenger
2, rue de la Gare
CH-2340
Le Noirmont
Switzerland
Email:
wenger@relaischateaux.com
year validity *
540 properties around the world
48 h to 72 h delivery *
secure payment
100% Relais & Châteaux
* for metropolitan France only
La Maison des
in Paris
Acheter sur place des
and boxes on site

33 Boulevard Malesherbes
75008 Paris, France
+33 (0)1.58.18.30.00

From Tuesday to Friday : 10AM-7PM
On Saturday : 10AM/1PM and then 2PM/7PM - Summer closure from 5 to 17 August.