Moulin de l'Abbaye
Hotel and restaurant in a village.

France, Brantôme-en-Périgord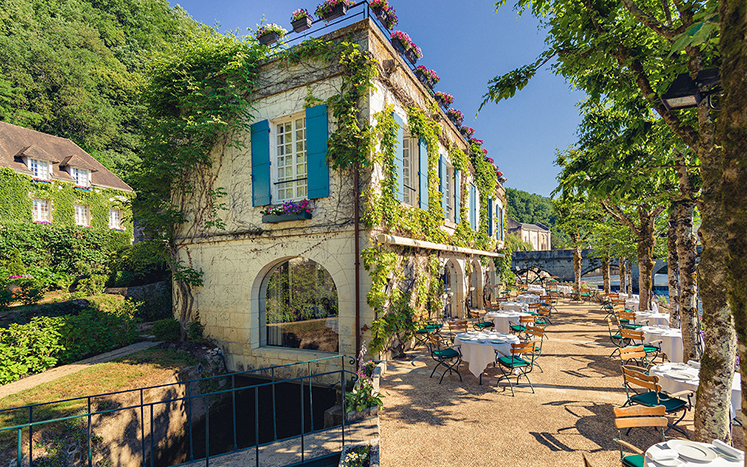 Unique in the world:
"In brantôme, the venice of the périgord, this ivy-clad mill is one of the most delightful places in the dordogne."
Valérie Gautherot, Maître de Maison, presents his property:
In Brantôme, the Venice of the Périgord, this ivy-clad mill is one of the most delightful places in the Dordogne. The vista takes in the impressive bridge, a 16th century masterpiece, the monastery garden, the medieval tower, the Renaissance pavillion and the famous abbey founded by Charlemagne. The rooms and lounges are elegant and cosy, and the light-filled dining room opens out onto a terrace on the river banks. The Chef creates innovative, delectable cuisine showcasing local produce. At the mill itself, the miller's house and the house where the famous Abbot of Brantôme, Pierre de Bourdeilles, once lived, the stage is set to enjoy this romantic, magical setting.
Services
Car Park
Garage
Children welcome
Activités
Canoeing/kayaking
Horseback riding
Fishing
Golf
Biking
Are you in possession of a CRÉATION Gift Certificate or Box?
Call:
+ 33 (0)5 53 05 80 22
Address:
Moulin de l'Abbaye
1, route de Bourdeilles
24310
Brantôme-en-Périgord
France
Email:
moulin@relaischateaux.com
year validity *
540 properties around the world
48 h to 72 h delivery *
secure payment
100% Relais & Châteaux
* for metropolitan France only
La Maison des
in Paris
Acheter sur place des
and boxes on site

33 Boulevard Malesherbes
75008 Paris, France
+33 (0)1.58.18.30.00

From Tuesday to Friday : 10AM-7PM
On Saturday : 10AM/1PM and then 2PM/7PM - Summer closure from 5 to 17 August.