Abbaye de la Bussière
Hotel and restaurant in a park.

France, La Bussière-sur-Ouche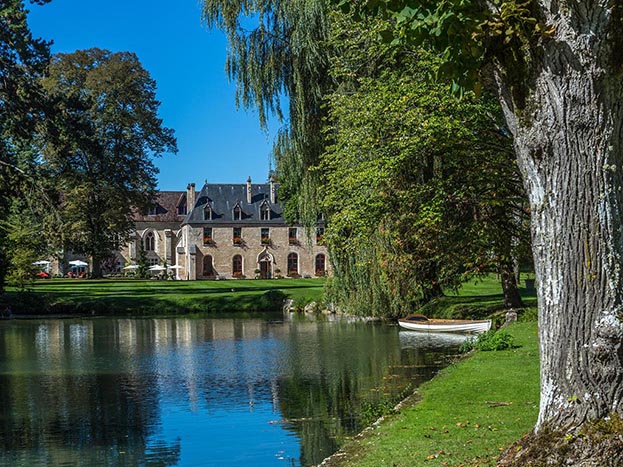 Unique in the world:
"Ancient frescoes discovered during the renovation of the building."
Clive and Tanith Cummings, Maîtres de Maison, present their property:
With a lake and a botanical garden, the grounds of this 12th century Cistercian abbey are marked by a long tradition of humility, peace and hospitality and exude tranquillity. Magnificently restored by the Cummings family, the subtle architecture of the exterior of the Abbaye de la Bussière contrasts with the spectacular interior design, which incorporates ancient frescoes discovered during the renovation of the building. Antique furniture and silken fabrics create an ambiance of subtle sophistication and pure elegance. Dine in a cathedral-like setting and enjoy a wine list that offers the very best of Burgundy.
Services
Car Park
Children welcome
Activités
Canoeing/kayaking
Hunting
Horseback riding
Fishing
Golf
Water skiing
Biking
Sailing
Mountain biking
Are you in possession of a CRÉATION Gift Certificate or Box?
Call:
+ 33 (0)3 80 49 02 29
Address:
Abbaye de la Bussière
D33
21360
La Bussière-sur-Ouche
France
Email:
bussiere@relaischateaux.com
year validity *
540 properties around the world
48 h to 72 h delivery *
secure payment
100% Relais & Châteaux
* for metropolitan France only
La Maison des
in Paris
Acheter sur place des
and boxes on site

33 Boulevard Malesherbes
75008 Paris, France
+33 (0)1.58.18.30.00

From Tuesday to Friday : 10AM-7PM
On Saturday : 10AM/1PM and then 2PM/7PM - Summer closure from 5 to 17 August.