Ristorante Enoteca Pinchiorri
Restaurant in town.

Italy, Florenz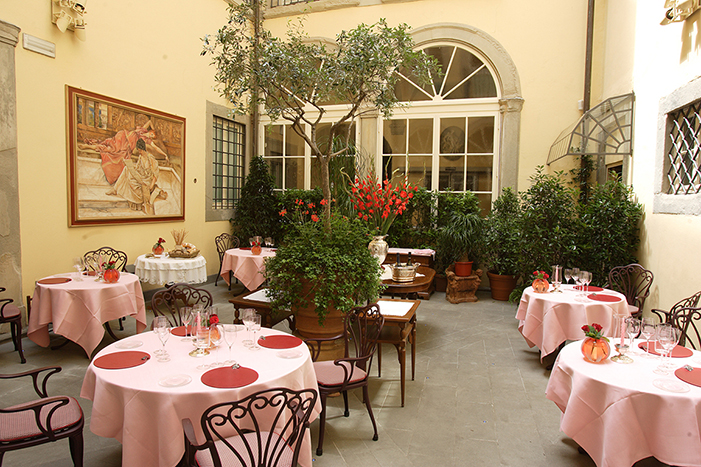 Unique in the world:
"Enoteca is located in a renaissance palazzo in the heart of florence."
Alessandro Tomberli, Maître de Maison, presents his property:
Chef Annie Féolde, also known as The Diva of Cuisine, was the first woman Chef to earn 3 stars in Italy and the fourth one in the world. She serves innovative cuisine created from all top-quality Italian ingredients. The fine wines selected by sommelier Giorgio Pinchiorri, her companion for forty years, are the perfect accompaniment to her cuisine. Enoteca is located in a Renaissance palazzo in the heart of Florence, as is Relais Santa Croce Hotel. On the menu: fusilli al ferretto and squids in white wine, artichokes and botargo, double squab breast and peas in mint, potato doughnut with fegatini sauce; truffle and caramelised chocolate, pink grapefruit and almond milk. Impeccable service and a warm welcome add the finishing touches to a truly memorable meal.
Services
Garage
Valet
Children welcome
Are you in possession of a CRÉATION Gift Certificate or Box?
Call:
+ 39 055 24 27 77
Address:
Ristorante Enoteca Pinchiorri
Via Ghibellina, 87
I-50122
Florenz
Italy
Email:
enoteca@relaischateaux.com
year validity *
540 properties around the world
48 h to 72 h delivery *
secure payment
100% Relais & Châteaux
* for metropolitan France only
La Maison des
in Paris
Acheter sur place des
and boxes on site

33 Boulevard Malesherbes
75008 Paris, France
+33 (0)1.58.18.30.00

From Tuesday to Friday : 10AM-7PM
On Saturday : 10AM/1PM and then 2PM/7PM - Summer closure from 5 to 17 August.