Don Alfonso 1890
Restaurant and hotel in a village.

Italy, S. Agata Sui Due Golfi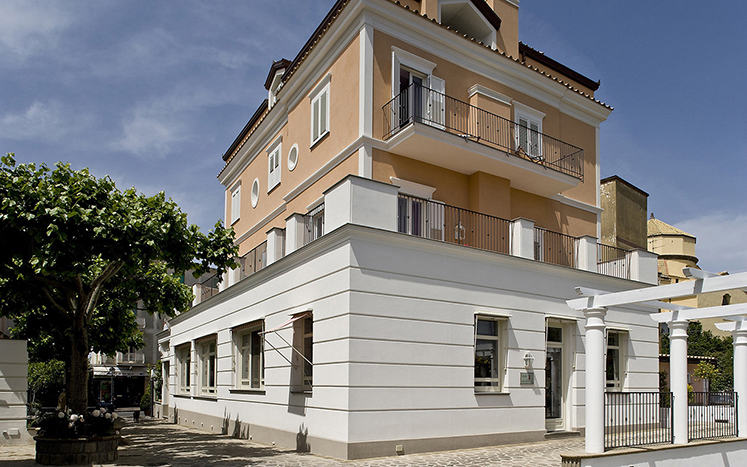 Unique in the world:
"Using fresh produce from his own farm, le peracciole."
Mario Iaccarino, Maître de Maison, presents his property:
On the stunning headland where the gulf of Naples meets the gulf of Salerno, Alfonso and Ernesto Iaccarino create dishes that reflect his love for this slice of Italy dotted with lemon groves, vineyards and olive trees. Using fresh produce from his own farm, Le Peracciole, Iaccarino creates simple Mediterranean marvels, such as swordfish with chickpeas and thyme, goatfish with rosemary and cucumber, and pasta with clams and courgettes. His wife and two sons give a family touch to the ambience and the combination of exceptional produce, warm hospitality and Iaccarino's skills make the difference.
Services
Car Park
Garage
Valet
Children welcome
Equipements
Terrace
Lift / Elevator
Outdoor
Activités
Canoeing/kayaking
Fishing
Diving
Biking
Mountain biking
Are you in possession of a CRÉATION Gift Certificate or Box?
Call:
+ 39 0818 78 00 26
Address:
Don Alfonso 1890
Corso S. Agata 11,
I-80064
S. Agata Sui Due Golfi
Italy
Email:
donalfonso@relaischateaux.com
year validity *
540 properties around the world
48 h to 72 h delivery *
secure payment
100% Relais & Châteaux
* for metropolitan France only
La Maison des
in Paris
Acheter sur place des
and boxes on site

33 Boulevard Malesherbes
75008 Paris, France
+33 (0)1.58.18.30.00

From Tuesday to Friday : 10AM-7PM
On Saturday : 10AM/1PM and then 2PM/7PM - Summer closure from 5 to 17 August.