La Vie
Restaurant in town.
Germany, Osnabrück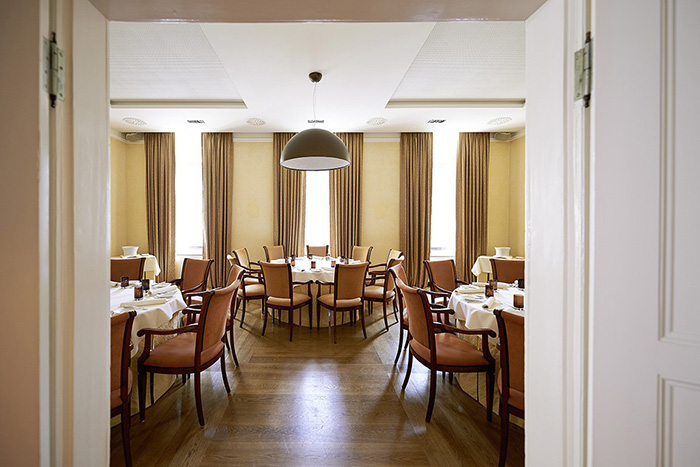 Unique in the world:
"Creates three-dimensional, avant-garde and aromatic cuisine."
Thomas Bühner, Thayarni Kanagaratnam, Maître de Maison, presents his property:
In the heart of the historic old town of Osnabrück, Chef Thomas Bühner and Maîtresse de Maison Thayarni Kanagaratnam welcome you to the warmly decorated surroundings of the restaurant La Vie, a neoclassical house, adorned with fine wood and contemporary works of art. In this "Mecca for gourmets", Thomas Bühner creates three-dimensional, avant-garde and aromatic cuisine. He seeks out the natural flavours of the ingredients he chooses to showcase and takes time to cook them at low temperatures. His menus are composed like a symphony, and his arrangements playfully create combinations which lead to a thrilling and memorable harmony of sensations.
Services
Car Park
Valet
Children welcome
Are you in possession of a CRÉATION Gift Certificate or Box?
Call:
+ 49 (0)541 331 150
Address:
La Vie
Krahnstrasse 1-2
D-49074
Osnabrück
Germany
Email:
lavie@relaischateaux.com
year validity *
540 properties around the world
48 h to 72 h delivery *
secure payment
100% Relais & Châteaux
* for metropolitan France only
La Maison des
in Paris
Acheter sur place des
and boxes on site

33 Boulevard Malesherbes
75008 Paris, France
+33 (0)1.58.18.30.00

From Tuesday to Friday : 10AM-7PM
On Saturday : 10AM/1PM and then 2PM/7PM - Summer closure from 5 to 17 August.