La Villa Calvi
Hotel and restaurant on the seafront.

France, Calvi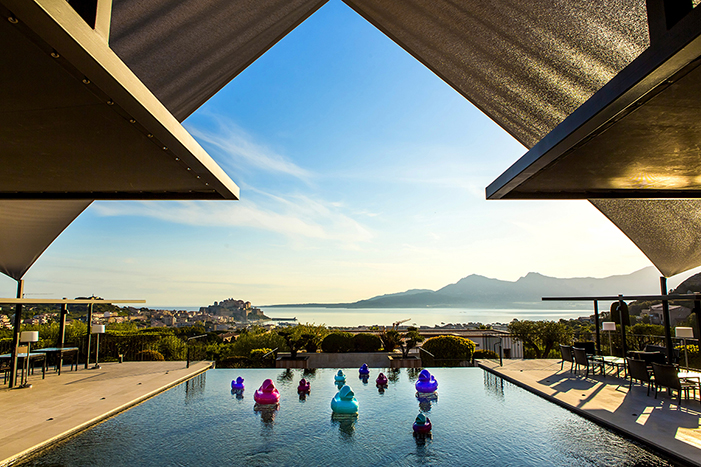 Unique in the world:
"Just enter la villa, across from the citadel, and all your senses will come alive."
Jean-Pierre and Marion Pinelli, Maîtres de Maison, present their property:
A stay at La Villa is a statement. This hotel stands for good taste. It offers a particular art of living. La Villa, much like a private club, is a haven for lovers of beauty, tranquillity and culture. Art permeates the entire hotel, from the painter's canvas to the violinist's bow, not to mention the keys of the piano. Culinary art too has some well-tempered chords to play. The views over the Bay of Calvi, the scents of the sea and the pine forests, the sounds of music mingling with the song of the cicadas, the flavours of the local ingredients, beautiful plasterwork cool to the touch... Just enter La Villa, across from the Citadel, and all your senses will come alive.
Services
Car Park
Valet
Children welcome
Equipements
Terrace
Lift / Elevator
Indoor and outdoor swimming pool
Indoor
Outdoor
Activités
Canoeing/kayaking
Hunting
Horseback riding
Fishing
Golf 9 holes
Diving
Rafting
Water skiing
Tennis on site
Biking
Indoor bike
Sailing
Mountain biking
Jeep hire
Boat hire
Helicopter for hire
Are you in possession of a CRÉATION Gift Certificate or Box?
Call:
+33 (0)4 95 65 10 10
Address:
La Villa Calvi
Chemin de Notre-Dame-de-la-Serra
20260
Calvi
France
Email:
lavilla@relaischateaux.com
Recipient
of a Creation ?
> Enter your card number
From Tuesday to saturday : 10am - 7pm
Exceptional closure from 2pm to 3pm, until June 30th
Fermeture exceptionnelle du service commercial le Vendredi 22 Juin. Réouverture Lundi 25 Juin.

A prestigious gift for your customers or to motivate your teams.
Contact us