La Villa Spa
Restaurant and hotel on the seafront

France, Calvi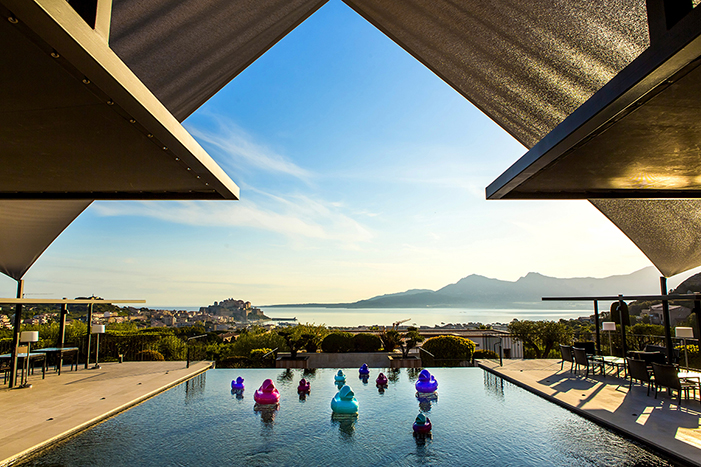 Unique in the world:
"Just enter La Villa, across from the Citadel, and all your senses will come alive."
Jean-Pierre and Marion Pinelli, Maîtres de Maison, present their property:
When you cross the threshold of La Villa, on the slopes above Calvi, you know that you are entering another world. Jean-Pierre and Marion Pinelli have made this three-hectare estate, a place of harmony and tranquillity, an absolute must in Corsica. Most rooms boast stunning views of the bay and the citadel . The executive chef serves a cuisine which showcases a profusion of local ingredients from the Corsican terroir. Further enjoyment is to be found at the spa with its personalised treatments. Here art occupies pride of place: every year exhibitions are held as well as 'Villa Nights', charitable events with classical music.
Services
Car Park
Valet
Children welcome
Equipements
Terrace
Lift / Elevator
Indoor and outdoor swimming pool
Indoor
Outdoor
Activités
Canoeing/kayaking
Hunting
Horseback riding
Fishing
Golf 9 holes
Diving
Rafting
Water skiing
Tennis on site
Biking
Indoor bike
Sailing
Mountain biking
Jeep hire
Are you in possession of a CRÉATION Gift Certificate or Box?
Call:
+ 33 (0)4 95 65 10 10
Address:
La Villa Spa
Chemin de Notre-Dame-de-la-Serra
20260
Calvi
France
Email:
lavilla@relaischateaux.com
year validity *
540 properties around the world
48 h delivery *
secure payment
100% Relais & Châteaux
* for metropolitan France only
La Maison des
in Paris
Buy gift certificates
and boxes on site

33 Boulevard Malesherbes
75008 Paris, France
+33 (0)1.58.18.30.00

From Tuesday to Friday : 10AM-7PM
On Saturday : 10AM/1PM and then 2PM/7PM