Ksar Char-Bagh
Hotel and restaurant in a park.
Morocco, Marrakech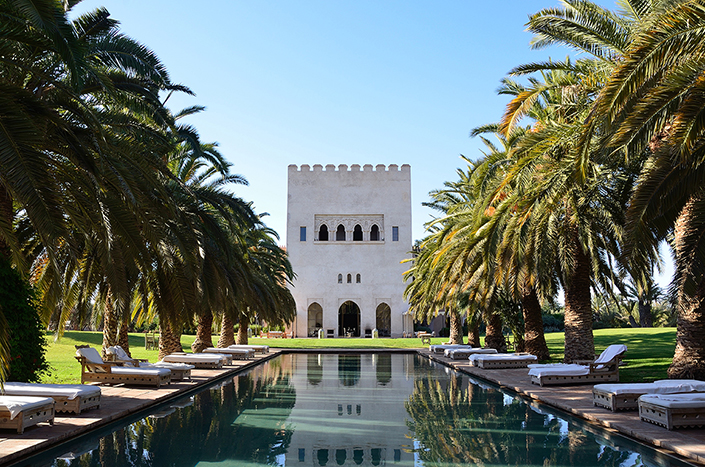 Unique in the world:
"Palace nestling in the palm grove of marrakech, just ten minutes from the medina."
Kevin Ceccarelli, Maître de Maison, presents his property:
The intoxicating fragrance of the herb garden and fig and olive orchards wafts through the air of the magical Ksar Char-Bagh, a Moorish palace nestling in the palm grove of Marrakech, just ten minutes from the Medina. The gentle rushing of the water irrigating the gardens reaches your harim, a small private suite overlooking a terrace or a private garden. Guests may eat their meals where the fancy takes them: the French chef uses vegetables from the palace cottage garden. A huge red marble hammam, strolls in the gardens, orchard or around the farm, and a cigar cellar, smoking lounge and library bar add the final touches to this Moroccan paradise.
Services
Car Park
Children not allowed
Activités
Horseback riding
Golf 9 holes
Golf
Tennis on site
Biking
Indoor bike
Mountain biking
Heated swimming-pools
Sports coach
Yoga
Billiards
Library
Flights over the palm grove by hot-air balloon or helicopter
Visit to the palm grove by camel or on horseback.
Are you in possession of a CRÉATION Gift Certificate or Box?
Call:
+ 212 (0)524 32 92 44
Address:
Ksar Char-Bagh
Djnan Abiad,
40000
Marrakech
Morocco
Email:
charbagh@relaischateaux.com
year validity *
540 properties around the world
48 h to 72 h delivery *
secure payment
100% Relais & Châteaux
* for metropolitan France only
La Maison des
in Paris
Acheter sur place des
and boxes on site

33 Boulevard Malesherbes
75008 Paris, France
+33 (0)1.58.18.30.00

From Tuesday to Friday : 10AM-7PM
On Saturday : 10AM/1PM and then 2PM/7PM - Summer closure from 5 to 17 August.