La Bonne Étape
Hotel and restaurant in a village.

France, Château-Arnoux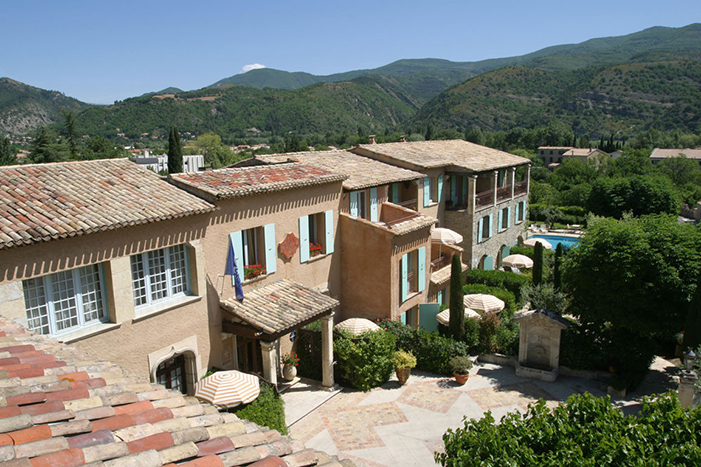 Unique in the world:
"The delicious lavender-scented honey ice cream served in it's bee hive."
Jany Gleize, Maître de Maison, presents his property:
Countless generations of the Gleize family have looked after this 17th century post house. The balconies, the mosaiced walkways and the almond-green shutters are the work of Jany, the latest in the line. In the kitchen he reinvents the Provencal recipes of grandmother Gabrielle, with traditional flavours. Sweets are a tribute to Jany's father, Pierre, a confectioner. Sample the delicious lavender honey ice cream served in it's bee hive. A vegetable and a landscaped garden blend flowers, fruit and vegetables. Much more than simply a stopover, this is a voyage for the senses and a stepping stone to reaching perfect happiness.
Services
Car Park
Garage
Children welcome
Activités
Horseback riding
Fishing
Golf
Rafting
Skiing
Biking
Mountain biking
Cooking classes
Pastry classes
Are you in possession of a CRÉATION Gift Certificate or Box?
Call:
+ 33 (0)4 92 64 00 09
Address:
La Bonne Étape
Chemin du Lac
04160
Château-Arnoux
France
Email:
bonneetape@relaischateaux.com
year validity *
540 properties around the world
48 h to 72 h delivery *
secure payment
100% Relais & Châteaux
* for metropolitan France only
La Maison des
in Paris
Acheter sur place des
and boxes on site

33 Boulevard Malesherbes
75008 Paris, France
+33 (0)1.58.18.30.00

From Tuesday to Friday : 10AM-7PM
On Saturday : 10AM/1PM and then 2PM/7PM - Summer closure from 5 to 17 August.