Création N°1
This gift includes for two persons:
a three-course lunch or dinner
one glass of wine or Champagne
List of the properties accepting this box for this state (Estonia)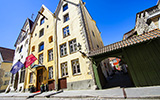 The Three Sisters Hotel
Hotel and restaurant in town.
Special conditions for this Gift Box
This service is possible:
Lunch or dinner
Gift box accepted on dates when the property is open
with the exception of:
31/12 ; 14/02 ; 08/03
Recipient
of a Creation ?
> Enter your card number
From Tuesday to saturday : 10am - 7pm
Exceptional closure from 2pm to 3pm, until June 30th
Fermeture exceptionnelle du service commercial le Vendredi 22 Juin. Réouverture Lundi 25 Juin.

A prestigious gift for your customers or to motivate your teams.
Contact us